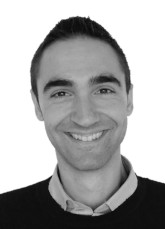 Swiss National Science Foundation (SNSF) Postdoctoral Fellow
Biomedical Engineer, PhD
This email address is being protected from spambots. You need JavaScript enabled to view it.
---
Biosketch
• Master degree in Biomedical Engineering, "Sapienza" University of Rome, Rome, IT
• PhD in Biomedical Engineering, University of Bern, Bern, CH
Research interests
• Neuroscience
• Non-invasive brain stimulation (transcranial magnetic stimulation – TMS, transcranial direct current stimulation – tDCS)
• Neuroimaging (functional magnetic resonance imaging – fMRI)
• Movement disorders (e.g., Tourette disorder, Dystonia)
• Eye-tracking techniques
Projects
• Multivariate analysis of functional connectivity provides the neural signature of Tourette disorder
• Symptom-specific patterns of resting state functional connectivity in cervical dystonia and focal hand dystonia 
Funding
• 2018. Swiss National Science Foundation (SNSF) Postdoc Mobility Fellowship
Selected publications
Zito GA, Anderegg LB, Apazoglou K, Müri RM, Wiest R, grosse Holtforth M, Aybek S. "Transcranial magnetic stimulation over the right temporo-parietal junction influences the sense of agency in healthy humans", Journal of Psychiatry and Neuroscience, 2020.
Zito GA, Apazoglou K, Ionescu A, Aminian K, Aybek S. "Abnormal motor behaviour in patients with functional movement disorders during exposure to stress", Psychoneuroendocrinology, 2018.
Zito GA, Cazzoli D, Scheffler L, Jäger M, Müri R, Mosimann UP, Nyffeler T, Mast FW, Nef T. "Street crossing behavior in younger and older pedestrians. An eye- and head-tracking study", BMC Geriatrics, 2015.
Zito GA, Senti T, Cazzoli D, Müri R, Mosimann UP, Nyffeler T, Nef T. "Cathodal HD-tDCS on the right V5 cortex improves motion perception in humans", Frontiers in Behavioral Neuroscience, 2015.