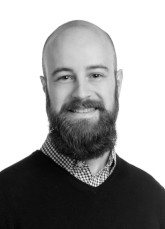 Biosketch
• Master degree in Biomedical Engineering, University of Bern, Bern, CH
• PhD in Biomedical Engineering , University of Bern, Bern, CH
Research interests
• Role of Dataset Shift in Machine Learning applications for Neuroradiology & Neurology
• Evaluation of Machine Learning algorithms for brain lesion quantification
• Imaging biomarker discovery for stroke & brain tumor diagnostics
• Novel ways to teach topics of Data Science & Machine Learning to medical professionals
Projects
• Advanced Stroke Analytics Platform (ASAP)
• Stroke treatment goes personalized: Gaining added diagnostic yield by computer-assisted treatment selection (STRAY-CATS)
Funding
• 2018. Herzstiftung / Research Grant
• 2018. Nachwuchsförderungspool, Universität Bern. / Grant for Workshop Organization
Selected publications
Meier R, Pahud de Mortanges A, Wiest R, Knecht U, "Exploratory Analysis of Qualitative MR Imaging Features for the Differentiation of Glioblastoma and Brain Metastases", Frontiers in Oncology, 2020.
Meier R, Lux P, Jung S, Fischer U, Gralla J, Reyes M, Wiest R, McKinley R, Kaesmacher J, "Neural Network-derived Perfusion Maps for the Assessment of Lesions in Patients with Acute Ischemic Stroke", Radiology: Artificial Intelligence, 2019.
Rebsamen M, Knecht U, Reyes M, Wiest R, Meier R*, McKinley R* (*equal contr.), "Divide and Conquer: Stratifying Training Data by Tumor Grade Improves Deep Learning-Based Brain Tumor Segmentation", Frontiers in Neuroscience, 2019.
Pereira S*, Meier R*, McKinley R, Wiest R, Alves V, Silva CA, Reyes M (*equal contr.), "Enhancing interpretability of automatically extracted machine learning features: application to a RBM-Random Forest system on brain lesion segmentation", Medical Image Analysis, 2018.
Meier R*, Knecht U*, Loosli T, Bauer S, Slotboom J, Wiest R, Reyes M (*equal contr.) "Clinical Evaluation of a Fully-automatic Segmentation Method for Longitudinal Brain Tumor Volumetry", Nature Scientific Reports, 2016.