Third place BraTS Challenge 2019
Richard McKinley and colleagues took third place in the Multimodal Brain Tumor Segmentation (BraTS) Challenge at this year's MICCAI conference (Shenzhen, China) with his work entitled "Triplanar ensemble of 3D-to-2D CNNs with label-uncertainty for Brain tumor segmentation". For more information on the challenge, click here.

---
Biomedical Engineering Prize 2019
M. Rebsamen received the Biomedical Engineering Prize 2019 for best MSc Thesis in Basic Science. His project was entitled: "Fast and accurate human brain morphometry estimation with deep learning".
---
Novartis FreeNovation 2018 Prize
Richard McKinley has received a Novartis FreeNovation 2018 Prize for his project entitled "DeepSCAN-cortex: Measuring cortical thickness in the brain using super-resolution machine learning". The project examines the use of modern machine-learning techniques (deep learning super-resolution classfiers) to derive maps of the cortex from standard images with a resolution of 0.5mm cubed or higher, allowing more accurate measurements of the cortex.
---
Third place BraTS Challenge 2018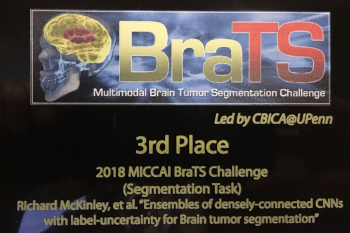 Richard McKinley took third place in the Multimodal Brain Tumor Segmentation Challenge at this year's MICCAI conference (Granada, Spain) with his work on deep learning for brain tumor segmentation.
---
Epilepsy research prize 2018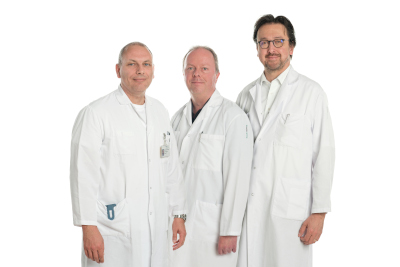 For efforts in developing a non-invasive examination method using MRI, the Swiss League Against Epilepsy awarded Prof. Dr. med. Roland Wiest, Dr. Claus Kiefer and Prof. Dr. med. Dr. sc. nat. Kaspar Schindler the epilepsy research prize 2018. The project is entitled "Neuronal current imaging - Klinische Anwendung einer nicht invasiven, MR-basierten Untersuchungsmethode zur Erfassung von lokalen, epilepsie-bezogenen Magnetfeldinhomogenitäten nach erstmaligem epileptischem Anfall". Neuronal current imaging (NCI / P-SIRS) is a new MR-based technique for the direct measurement of changes in the magnetic field associated with epileptic brain activity. This method was developed in Bern and is exclusively applied here.